New Port Richey is making a bold statement with its recent project at the intersection of U.S. 19 and Main Street. It creates an inviting entrance point for visitors and residents with an expansive sign and avenue of sabal palms. The Community Redevelopment Agency commissioned the installation and initiated the design process to demonstrate the city's commitment to community redevelopment and maintain a thriving and pleasing environment for its inhabitants. Robert Rivera, the city's public works director, commented on the substantial impact of this noticeable entry feature as it is expected to attract a large following of interest from visitors coming into the city.
Welcome Sign and Landscaping Feature at U.S. 19 and Main Street
New Port Richey is taking its redevelopment efforts to the next level with a new welcome sign and landscaping feature at the intersection of U.S. 19 and Main Street. This impressive entrance will feature an avenue of sabal palms to create a warm and inviting atmosphere, along with a 20-foot wide sign with a programmable, lighted message so visitors can stay informed about what's happening in the city. This ambitious project is set to begin in a couple of months, showing New Port Richey's commitment to creating a vibrant, welcoming environment for both residents and visitors.
The Community Redevelopment Agency, comprised of New Port Richey's City Council members, recently awarded the contract to Augustine Construction, Inc. for the installation of a new sign – as well as palm trees and other landscaping -along Main Street off U.S. 19. This project was made possible by design created by an architect in 2020, and is expected to be a focal point for tourists, providing insight into the city's events and identity. Robert Rivera, the city's public works director, noted that 60,000 people pass through this intersection daily, making it an ideal location for this project.
City Manager Debbie Manns said this project is an extension of their branding campaign and serves as a formal welcome to the city.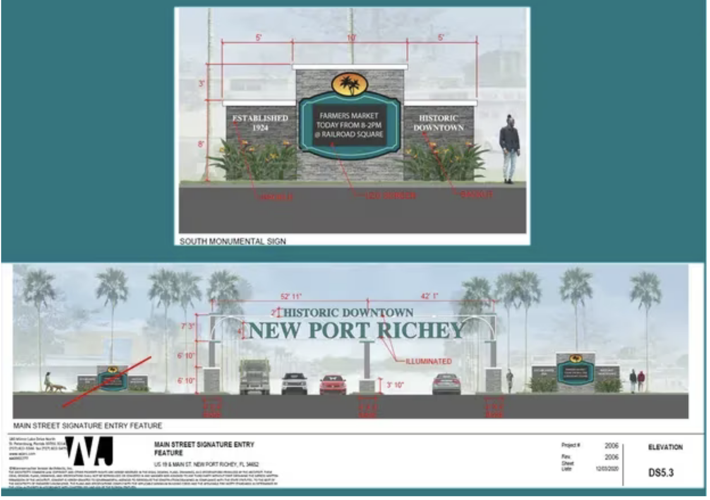 Council Member Matt Murphy expressed his enthusiasm for the sign, noting that it was tall enough to allow floats from the annual Chasco Fiesta parade to pass. Council Member Peter Altman also proposed a partnership with Keiser University to create an open area where students could enjoy the outdoors. Despite the project's price tag, Council Member Kelly Mothershead expressed her support, noting that such improvements were needed.
Mayor Chopper Davis praised the team's efforts, adding that he thought the intersection work should complement what the state road officials had requested at Marine Parkway and Gulf Drive. Ultimately, Council Members continued to express their support of the project, as it was clear that the redevelopment agency money was being used to create a district with a vibrant atmosphere.
New Port Richey's Community Redevelopment Agency has taken its redevelopment efforts to the next level with its vibrant new welcome sign and palm tree feature. The gateway entrance is estimated to be seen by 60,000 people daily, creating a warm and inviting atmosphere for visitors and residents alike. Not only is this designed to greet those entering the city, but it also serves as an impressive landmark for the branding of New Port Richey into the future.