Dedrah Williams has taken the community by storm with her unique dream: Dedrah's LLC Soul Food, the only soul food truck in the area and located on US 19 in New Port Richey. Aided only by her savings and her mother's help, she managed to leverage free social media accounts like Nextdoor to advertise and open shop after just one month of investing her time in paperwork and licenses.
Dedrah Williams has made a big impact in just two months since she opened her soul food truck, Dedrah's LLC Soul Food, on U.S. 19 in New Port Richey. With only her savings and help from her mom, but no business loans, she managed to advertise solely on free social media accounts such as Nextdoor. Her truck is believed to be the only one selling soul food in the area, and it has become a welcome addition to the community. Williams originally intended to move further south in Florida, however, she was pleasantly surprised when she found that Pasco County had more affordable housing prices.
With her savings, she was able to purchase all of the necessary gear and paperwork, and within a month she had secured all of the necessary licenses and inspections. This has enabled her to introduce herself to the local community and offer a unique service that is already becoming popular.
Williams' ambition and enthusiasm were the keys to her success, as she made a conscious decision to invest in her sons' future instead of using any available programs or loans. She was proud to have done it all by herself and is excited to watch her business grow.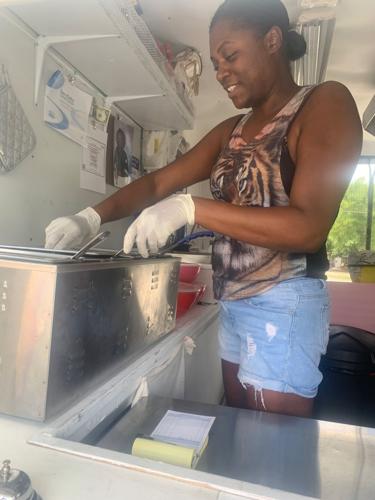 "I'm so glad I dared to launch my food truck," said Williams. "It isn't the biggest on the road, but it's just right for me and any extra help I might need. I'm proud that I was able to make it happen without having to rely on anyone else or take out any loans—all by myself!"
Dedrah's LLC Soul Food is open Tuesday through Sunday, 11 a.m. to 7 p.m. outside Gulfside Motorsports, 4237 U.S. 19 S. (across from Sam's Club) in New Port Richey, and serves up traditional soul food favorites such as smothered pork chops, collard greens, fried green tomatoes, and chicken wings with waffles. Williams also takes pride in his baking, offering delicious desserts such as German chocolate, key lime, and lemon pound cakes, and specialty cheesecakes. Williams, the owner of Dedrah's LLC Soul Food, is proud to have started his business without taking out any loans. In addition to traditional soul food favorites, Williams also offers a variety of delicious desserts including German chocolate, key lime, and lemon pound cakes, and specialty cheesecakes.
It is evident that Dedrah Williams made a bold move in starting her own business, and while the gamble paid off to her commitment, skill set, and hard work, it has resulted in a unique service welcomed by New Port Richey's local community. Williams' determination and ambition have paid off, showing how dreams don't necessarily have to start with big investments or loans, but simply with taking a chance and believing in oneself. It seems certain that the success of Dedrah's LLC Soul Food will only continue to expand.
Learn More About Dedrah's LLC Soul Food