New Port Richey is an idyllic town to spend one's retirement with its beautiful beaches, diverse downtown historic district, and the many activities and events the city has on offer – one could not ask for more! Throughout this amazing coastal city located just 35 miles northwest of Tampa, senior citizens will find numerous 55+ communities and enjoyable retired living surrounded by nature's beauty. Retirees perfecting that dream retirement life have countless opportunities and amenities to explore what makes New Port Richey Florida's top city for seniors.
New Port Richey is an amazing coastal town located 35 miles northwest of Tampa, known for its magnificent 55+ communities and retirement living. With a blend of beaches, nature, and modern amenities, it's no wonder New Port Richey is one of the best cities for senior living in all of Florida. For those seeking to make the most of their retirement, New Port Richey offers four reasons why it should certainly be at the top of your list.
Enjoy the Vibrant Downtown Historic District
New Port Richey is proud to present its diverse and vibrant downtown historic district, scenic riverfront, and year-round activities and events. Enjoy live music at one of the town's breweries or parks, or take in a show at the renowned Richey Suncoast Theater. With special events such as the 11-day Chasco Fiesta, Cotee River Seafood Festival, and the Fourth of July Main Street Blast, there's something for everyone to enjoy in this city. Retirement living in New Port Richey promises never-ending fun and excitement!
Anclote Key: A Day at the Beach
New Port Richey is a fantastic part of the Tampa Metro area, offering residents the very best of Florida living. With its beautiful Gulf Coast beaches and charming small-town atmosphere, New Port Richey is the perfect location for any Floridian. Just a short drive away is the bustling city of Tampa – boasting a wide array of attractions and downtown activities. For those who prefer to stay local, Anclote Key provides an excellent day out at the beach.
James E. Grey Preserve
New Port Richey offers an abundance of outdoor activities for residents to stay active and explore. With its 80-acre nature preserve on the Pithlachascotee River, the James E. Grey Preserve provides kayaking, a boardwalk accessible to all, and more. Sims Park, one of the town's oldest parks, has a boat dock, band shell, ADA-accessible kayak/canoe launch, and a gorgeous riverfront walking path. Orchid Lake, a luxurious RV resort owned by Garber Communities, further extends the possibilities of outdoor exploration with its many resort-style amenities.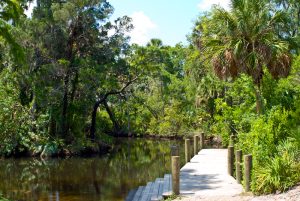 Benefits of Retirement in New Port Richey
1. Small-Town Charm
2. Warm Atmosphere
3. Social Opportunities
4. Discounts and Activities for Seniors
New Port Richey is a great place for retirees to call home, with its small-town charm and warm atmosphere. Pasco County has long been a destination for those looking for the perfect place to spend their retirement years, and it's easy to see why: New Port Richey is full of friendly senior citizens, offering plenty of opportunities for socialization. Additionally, there are lots of discounts and activities available specifically catered to seniors.
Resort-Style Amenities
Residents of Orchid Lake RV Resort are proud to call this 55+ community their home. With resort-style amenities, spectacular weather, and friendly neighbors, Orchid Lake is a top choice for retirees wanting to experience Florida living. The resort has an abundance of activities to choose from, such as bocce ball, corn hole, pickleball courts, a heated pool, shuffleboard, and even catch-and-release fishing. Residents can also take advantage of the clubhouse, exercise building, library, and campfire ring. Plus, full RV hookups and WiFi ensure that residents have all they need for a stress-free stay. If you're looking for a luxurious escape, Orchid Lake RV Resort has homes available now. For more information, click here or call 407-949-8629.
New Port Richey guarantees to make retirement special for those seeking it. From the lively downtown scene to mesmerizing natural landscapes like the Gulf Coast beaches and scenic riverfront, is no doubt that learners can expect to be occupied with exciting activities. Storm protection comes with hurricanes that cruise up the Gulf of Mexico. Likewise, residents can count on the affordability of entertainment, healthcare, and HOA costs thanks to Florida's favorable taxes. All in all, we can without a doubt understand why New Port Richey is one of the best cities for senior living in Florida: its fantastic blend of city attractions and beach destinations makes for an excellent retirement living spot.