Tree House Farm is proud to offer an unforgettable Restorative Yoga session that includes kangaroos! With this special event, participants can interact with wildlife nearby while enjoying a unique session that combines core power exercises, stretching, and vinyasa flows to create a stimulating and invigorating practice. Enjoy the opportunity to connect with nature in a tranquil environment, and pick up your tickets for this exclusive experience – Eventbrite or Venmo payment is accepted.
Restorative Yoga with Kangaroos!
Event Details:
• Date: Sat Jun 10, 2023
• Time: 10:00 am to 12:00 pm
• Location: Tree House Farm
5921 Portal Rd
New Port Richey, FL 34655
• Cost: $75 for a 1-Hour Interactive Yoga Class, Kangaroo Treats, and Tree House Farm Entrance for All-Day Rescue Animal Love!
• Registration: Pre-registration is required; purchase tickets via Eventbrite or Venmo (details below)
• Number of Participants: Limited tickets available – this event will sell out!
This is a unique event opportunity to be noticed! Join us for Restorative Yoga while interacting with Kangaroos, suitable for all fitness and yoga levels. Perfect for the whole family, pre-registration is required – take your time, tickets are limited, and this event will sell out! Purchase your Eventbrite Ticket or Venmo (see below) today!
Kangaroo Yoga at Tree House Farm: An Unforgettable Experience
Tree House Farm is proud to offer an unforgettable yoga experience! With kangaroos hopping around and interacting with yogis during a unique 60-minute session, this refreshing and invigorating practice combines stretching, vinyasa flow sequences, and core power exercises to help strengthen balance and flexibility. Afterward, participants can pat and love on the 'Roos with some delicious treats provided. Take advantage of this incredible opportunity to connect with nature and wildlife in an inspiring environment. #KangarooYoga #RooLove #TreeHouseFarmFun
The farm began with a determined vision and an initial rescue horse. When the 85-year-old owner suffered a stroke, her son asked if they could take in the horse. This quickly led to other rescues from K*ll pens and the realization that horses come with expensive needs. To offset costs, the farm offered boarding services and trail rides. The business soon expanded into exotic animals, leading to farm tours, field trips, and birthday parties. The farm has rescued over 21 horses and various other animals.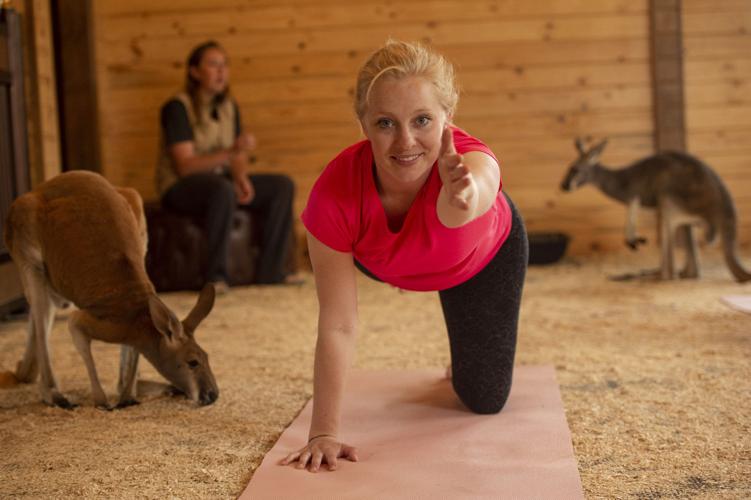 What to Bring
Join us for an Unforgettable Kangaroo Yoga Experience! Our exclusive event includes a 1 Hour Private, Interactive Kangaroo Yoga Session with treats and food for the 'Roos and a photo session with the 'Roos. In addition, you will also receive All-Day Admission to the Tree House Farm. For just $75 per person, this is an opportunity to be noticed. Everyone should come prepared with their own yoga mat, blanket, and a beach towel (which may get a little dirty!), fitness or yoga clothes, water bottle, layers or jacket (depending on the weather), sunscreen or hat, and camera for priceless photos of the 'Roos. All proceeds go back to the Farm so they can rescue more animals in need, making participation even more meaningful. Limited availability, so pre-purchase an Eventbrite ticket or pre-pay with Venmo* to avoid fees. All events must be pre-paid in advance with no refunds available.
Pre-payment through Venmo
OceanFitnessYoga is proud to offer pre-payment for Eventbrite Tickets through Venmo. To save on fees, please use the link www.Venmo.com/OceanFitnessYoga with the last four digits 7680. Remember to include the class name, date/time, and all guest names in the notes section. For more information, updates, and weather cancellations, please get in touch with Kerry Mac at 424-223-7680 or email Kerry@OceanFitnessYoga.com. Furthermore, OceanFitnessYoga offers special events such as birthday parties, bachelorette celebrations, family reunions, corporate events, etc., so contact us for bookings. I appreciate your support, and let's get ready to enjoy the healing powers of animal therapy!
This unique Eventbrite ticket or Venmo opportunity at Tree House Farm offers a restorative yoga experience unlike any other. With kangaroos hopping around participants, the 60-minute practice blends stretching, vinyasa flow, and core power exercise to strengthen balance and help relax. Guests will also have the chance to interact with these incredible animals while supporting an incredible organization that has rescued over 21 horses and other animals since beginning in 1999. Don't miss out on this special event, as tickets are limited and will sell out! #KangarooYoga #RooLove #TreeHouseFarmFun