If you're looking for a lively and fun night out, mark your calendars for Sunday, October 8, 2023. That's when the Italian American Social Club Tampa is hosting a fundraiser for local charities and featuring the hilarious Sheena Reagan. With her impeccable wit and relatable humor, she's sure to leave you in stitches. So what are you waiting for? Get your tickets now and be prepared for an unforgettable evening.
Who is Sheena Reagan?
Sheena Reagan is a name that no one in the comic and writing world can forget. A true powerhouse in her field, this talented lady has taken the US by storm with her hilarious performances. Having grown up in Cape Coral, Florida, Sheena has crafted a unique sense of humor that cannot be replicated. Her wit and charm have led her to win the coveted title of Florida's Funniest Female Comic twice in 2018 and 2022. Not only that, but some of the biggest names in comedy have taken notice of her talent, and there's no wonder why. Sheena Reagan is one to watch; we cannot wait to see what she has in store for us next.
What's the occasion?
Prepare for an evening of laughter and goodwill at the Italian American Social Club Tampa's event! The club is thrilled to present the hilarious Sheena Reagan, promising an unforgettable, fun night. But the excitement doesn't stop there! Attendees will also make a significant difference by contributing to the Columbus Day Fundraiser, a fantastic initiative supporting local charities. It's a chance to have a fantastic time while doing good – an opportunity not to be missed!
What to expect?
Sure to have everyone in stitches, this comedy event at 5650 Main Street, New Port Richey, United States, will kick off at 6 p.m. sharp. Its attendees will be treated to an endless supply of laughs courtesy of an exceptional lineup of entertainers. Ease of access is given, with parking available via the Nebraska entrance of The Social. A full menu and bar are on offer to sweeten the deal further, ensuring that guests can enjoy a delightful meal and ice-cold drinks as they gear up for a memorable night. The anticipation is palpable. Please mark your calendars, and it's an evening of hilarity that no one would want to miss.
How to get tickets?
Tickets are non-refundable, so make sure you're able to attend before purchasing them. You can easily purchase your tickets online. Just visit the event website and click on "Buy Tickets." Tickers sell out fast, so make sure you snag your ticket quickly.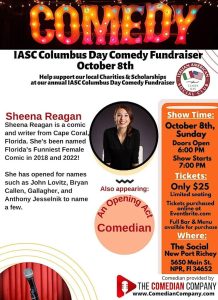 In conclusion, this is it if you're looking for an entertaining way to support local charities. You'll enjoy a night full of laughter with Sheena Reagan at the Italian American Social Club Tampa. It's an excellent opportunity to get out and have fun with friends and family. With doors opening at 6 p.m. and the event running until 10 p.m., there's sure to be plenty of time to enjoy food, drinks, and comedy. Please get your tickets today before they sell out!