Make your child's birthday party unforgettable with an innovative and exciting glow-in-the-dark dance party. Picture your kids glowing with excitement as they dance together in the dark along with their favorite Mario and Princess Peach characters while enjoying the benefits of glow-in-the-dark face painting and countless opportunities for spectacular photos. Parents are always looking for fresh ideas to elevate their children's birthday parties, and this glow-in-the-dark concept is the perfect solution to add some extra glimmer to the festivities. Your kids will be thrilled and overjoyed, remembering this unforgettable experience for years.
If you are wondering what to expect at Mario and Princess Peach GLOW PARTY, you are in for a treat. This event is held at LaDee-Da Kids Spa NPR, located at 7127 Florida 54, New Port Richey, on Friday, October 13, 2023, from 6:00 to 7:00 p.m. The event has limited space, so pre-registration/ticket purchase is necessary. The tickets are non-refundable but transferable once bought. The cost of general admission is only USD 35. The event includes:
Glow-in-the-dark face painting.
A dance party with the characters on stage.

Lots of photo opportunities.
A special occasion is coming up, and you want to make it unforgettable. Look no further than LaDee-Da Kids Spa for a blowout party that will leave lasting memories in children's and their parents' hearts. The team at LaDee-Da Kids Spa knows how to create the perfect environment for kids to let loose and have a blast. They can help you plan the ultimate party activities, from spa treatments to dancing games, and provide fantastic party favors to add to the fun. LaDee-Da Kids Spa is the perfect spot for kids to celebrate in style and make memories they will cherish for years.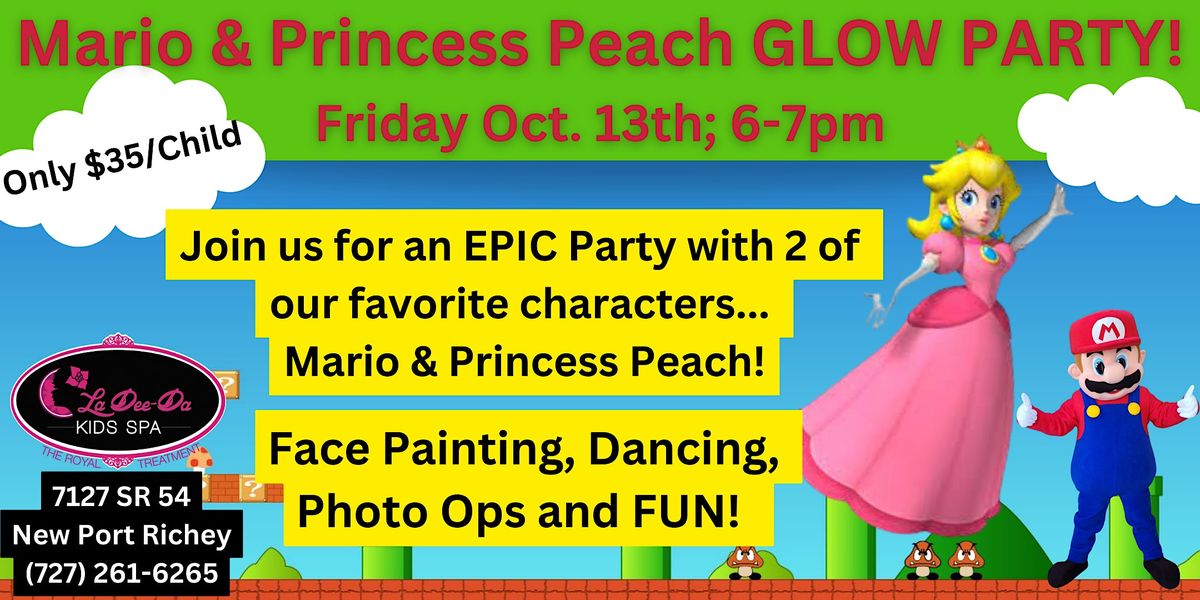 Are your kids fans of Mario and Princess Peach? If so, they're in for an incredible treat! They can dance and have fun with these famous characters, surrounded by a mesmerizing glow-in-the-dark ambiance that'll make the night truly magical. Your little ones can also wear their favorite costumes and let their imagination take over for a few hours. The staff is amiable and always ready to provide top-notch customer service, so you can rest assured that your child's experience will be remembered. Let your kids experience the thrill of dancing with their heroes and create unforgettable memories that will last a lifetime.
In conclusion, the Mario and Princess Peach GLOW PARTY is an incredible way to bring magic into your child's life while celebrating their love for one of history's most iconic and popular gaming couples. Seeing these classic characters dance, play games, and receive glow-in-the-dark face painting is undoubtedly an opportunity. The immersion provided by the glow-in-the-dark backdrop and costumes will enable your child's imagination to run wild. The event will be an unforgettable and must-attend experience you and your child will cherish for years. If you want to celebrate your child's love for gaming, this party should be on your radar. Please hurry up and book your tickets today before they sell out.