Fall is a time for unbridled joy and excitement, and this Fall Fun Fest List is full of remarkable ways to create lasting memories with your family. With so many outdoor activities to explore from nature walks to campfire stories, to drive-in movie nights, it's an opportunity to appreciate all that the season has to offer. 
As Fall approaches, it brings with it a host of exciting changes and opportunities to explore and enjoy. With the weather cooling down and the leaves changing color, there is something special to celebrate and look forward to. From fun-filled fall activities to potential traditions that can be repeated year after year, families have plenty of ways to create memorable moments full of joy and warmth. To help out, we've put together a Fall Fun Fest List with 13 ideas tailored to everyone's interests and passions. Let's make this Fall season magical!
Nature Walks
Autumn is a season full of adventure and exploration, and the perfect time to get outdoors and enjoy all that nature has to offer. From stunning changes in foliage to the abundance of pinecones and acorns, there are plenty of exciting natural phenomena to explore on a nature walk near your home or at the nearest park or forest. Have your family take their time and observe how the environment is transforming as the season progresses – they may even be able to collect some golden leaves, pinecones, or twigs to use for arts and crafts activities.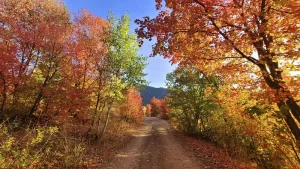 Gather Around the Campfire
Gathering the family around a campfire for S'mores and ghost stories is a wonderful way to create lasting memories. Whether it's held in the backyard or indoors with a faux campfire, this activity is sure to become a cherished tradition. Likewise, drive-in movies offer an exciting way to experience something new as a family. Enjoying the movie from the comfort of the car with all your favorite snacks makes for a truly unique and enjoyable evening.
Fun Fall Activities at the Orchard
A family outing to an apple orchard makes for a wonderful and memorable experience, as kids get to harvest the fruit the old-fashioned way. Once you've gathered enough apples, there are plenty of fun activities to explore with your children; like stringing together a leaf garland or making a scarecrow to place on the patio or in the garden. Both activities will bring the outdoors into your living area and create a festive fall atmosphere for all to enjoy!
Craft Your Own Trick-or-Treat Bag
Encourage your children to stand out from the crowd with their custom trick-or-treat bags. Pick up some large paper bags at the store and provide them with a array of materials such as construction paper, googly eyes, and leaves or twigs from a nature walk, and they'll be able to craft a bag that is unique to them.
Fall Reads for the Whole Family
As the temperature drops and days become shorter, it's time to cozy up with a good book. The Williams family loves these reads that will get you in the autumn spirit and inspire you to take on other activities. Margaret Wise Brown's classic story is the perfect accompaniment to building a scarecrow, Anne Rockwell's fall classic set in an apple orchard and pumpkin patch is ideal for before your family's apple-picking excursion, and Lois Ehlert's beautiful illustration of a maple tree's life brings extra meaning to any nature walk.
Pumpkin Pancakes or Waffles
Fall is an ideal time to encourage your kids to get into the kitchen and explore their culinary creativity! Cooking helps children understand math and science, so why not let them try out a few easy recipes? Pumpkin pancakes or waffles are a great place to start – just mix up your favorite pancake batter, stir in some pumpkin puree, and add a pinch of pumpkin pie spice. Delicious and nutritious!
What You'll Need
1. Apples
2. Crockpot Spices (cinnamon, nutmeg, etc.)
Making homemade apple butter is an easy and rewarding way to use up excess apples. It can be spread on toast, pancakes, peanut butter sandwiches, and many other delicious snacks! All you need are some apples, a crock pot, and the right spices. Involve your family in measuring out the ingredients and get creative when it comes to finding new ways to enjoy this tasty treat.
How to Roast Pumpkin Seeds
This year, why not turn your family's jack-o-lantern into a delicious and healthy snack? Just instruct your kids to spread the cleaned and dried pumpkin seeds out on a sheet pan and create their own spice mixture. Popular choiceslude: powdered ranch seasoning, chili powder, or an Italian-inspired blend of basil, oregano, garlic powder, and grated parmesan. Even if you didn't carve a pumpkin this year, you can still enjoy roasted pumpkin seeds – simply use butternut squash instead!
With these Fall Fun Fest List ideas, your family is sure to make beautiful memories this fall! Start a new tradition with your children and give them something exciting to look forward to each year.
Fall offers families the perfect opportunity to combine fun seasonal activities with traditions that will be treasured for years to come. Whether it's going on nature walks to observe the vibrant changing view or having fireside S'more nights, Fall is a time for exploration and quality family bonding. So get out and make the most of this special season before winter sets in – create smiles, laughter, and meaningful traditions, and cherish every moment!