New Port Richey is bursting with outdoor recreational activities, bustling downtown entertainment, and landmarks from the 1920s Florida Land Boom. Whether it is exploring the lush waterfront of Sims Park, kayaking through the salt marsh of Werner Boyce Salt Springs State Park, or finding amazing antiques in the heart of the city, travelers will find that there is no shortage of things to do in New Port Richey.
New Port Richey was developed at an incredibly fast rate during the Florida land boom of the 1920s, an era that was brimming with optimism. It was marketed as a winter escape for Hollywood stars, and several luminaries such as actor Thomas Meighan flocked to the city. Today, the downtown area is bustling with dining and entertainment options and is made even more beautiful by the breathtaking Sims Park. Every year in March, the Chasco Fiesta is held – an event first organized in 1922, which is a nine-day celebration. Finally, the abundant creeks and bayous along the shore make New Port Richey a top destination for kayaking, with downtown even offering launch points.
Salty Dog Kayak Rentals
Werner Boyce Salt Springs State Park is an incredible expanse of salt marsh, tidal creeks, and mangroves just north of New Port Richey. Visitors can explore the park along the Springs Trail, which winds through oak hammocks and pine flatwoods leading to small artesian springs and sinks. The park is best experienced from the water, with Salty Dog Kayak Rentals offering kayaks for adventurers to paddle remote inlets and bayous among rich wildlife.
Entertainment and Dining Options
Downtown New Port Richey is a bustling place full of activity and life. With newly planted palms, a recently reopened Hacienda Hotel, and not a vacant storefront to be seen, it's easy to see the upward trajectory of this area. Visitors can enjoy a variety of food and drink options, antique stores, entertainment spots like the Richey Suncoast Theater, and recurring events like Cars & Coffee on the first Sunday of the month. Kayaking is also a popular activity in this city due to its bayous and creeks that meander through it and into the Gulf of Mexico. Many of these watercourses are home to lush mangroves, wetlands, and even manatees in the winter months. There are plenty of rental businesses available if you don't have your vessel and an ADA-accessible launch right on the river downtown.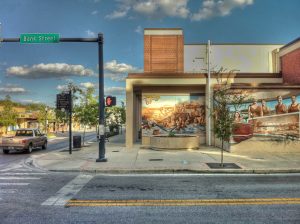 Celebrate Local Heritage with Chasco Fiesta
Chasco Fiesta is a highly acclaimed annual event in New Port Richey, celebrated since 1947. Drawing inspiration from local Native American culture, it boasts Florida's second-longest boat parade and third-longest street parade, as well as carnival rides, live music, a vehicle show, delicious local food, a golf tournament, a  5k run, and more. There's no better way to celebrate the area's rich heritage than by enjoying Chasco Fiesta!
Exploring the Park
Jay B. Starkey Wilderness Park is an 8,500-acre regional park located away from the coast, and partly managed by Pasco County. This magnificent park consists of pine flatwoods, freshwater marshes, cypress domes, and more, offering visitors an opportunity to explore and experience nature in all its glory. For cyclists, the Starkey Trail is an amazing seven-mile-long journey through the pine woods that connects with the Suncoast Trail next to the Suncoast Parkway on the east side. With so much to offer, this park is worth visiting!
Rich History and Fascinating Exhibits
The West Pasco Historical Society celebrates the area's rich history and offers an array of exhibits that are sure to pique the interest of any visitor. The building itself is a relic, being built around 1915 and once serving as the Seven Springs schoolhouse for ten years. The museum features artifacts from Native American tribes such as Deptford vessels, pottery, and arrowheads, as well as background information on the citrus industry, pioneer life, ranching, sponge diving, shipbuilding, and even some movie stars of the 1920s. Open Fridays through Sundays, visitors can gain insight into the area's past at this exceptional museum.
Explore the James E. Grey Preserve
The James E. Grey Preserve is a stunning natural oasis, situated just upstream from downtown New Port Richey. This wilderness of swamps and upland hammocks provides the perfect backdrop for outdoor activities such as paddling, fishing, and wildlife spotting. Visitors can take a stroll on the boardwalk that follows the winding course of the river for more than a mile or make use of the amenities near the parking area, including picnic shelters, restrooms, and a playground. November through April is an especially magical time to visit as you have the chance to spot manatees.
A Unique Cultural Experience
The Richey Suncoast Theatre is an iconic entertainment venue in the local area, having been around since the mid-1920s. This beautifully restored Mediterranean Revival building offers a wide range of live entertainment, from dramatic theater and comedy to Broadway-style musicals. There are also one-off concerts, singalong screenings of cult classics, a Vintage Movie Series, and educational programs such as workshops and masterclasses. For a truly unique cultural experience, the Richey Suncoast Theatre is the place to go!
Explore the Sheltered Waters of Eagle Point Park
Eagle Point Park is a paradise tucked away in New Port Richey, just south of Trouble Creek. This 15-acre park is surrounded by mangroves, with two parallel canals cutting through it. Visitors can explore the sheltered waters by launching a kayak or canoe from here, or simply enjoy the view from the piers. Additionally, there is exercise equipment for adults and a playground for kids, making it the perfect place for a family outing.
Unique Offerings
Since 2018, Cotee River Brewing Company has been a beloved destination in downtown New Port Richey. With a taproom that features rustic decor and photos of the city from the past, this craft brewery offers up to ten beers on tap – mostly brewed onsite with some from regional brewers. A must-try is the Market Fresh Wheat Beer, infused with herbal tea, while dark ale fans will love the Smoked Porter. Other unique offerings include sangrias made with wine from Aspirations Winery in Clearwater.
New Port Richey has something in store for every kind of visitor – whether you're looking for an escape to Hollywood glamor, exciting activities like concerts and Cars & Coffee, or a chance to get close to nature. With thriving downtown options and saltwater wetlands just outside the city limits, there is plenty to explore, from kayaking the lovely creeks and bayous and admiring amber sunsets over Werner Boyce Salt Springs State Park to dining and entertainment near the Hacienda Hotel. From first-time visitors to lifelong Floridians, everyone finds something to love here in New Port Richey.